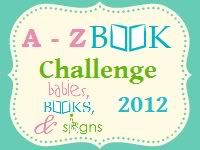 I've have decided to enter this challenge as well. To sign up go here. It's very simple, just read a book that starts with a letter of the alphabet, and make sure to cover all letters. As it says on the sign up post, '

Since it is really hard to find titles beginning with X, the letter X just needs to be in the title somewhere.'
I'm going with option A, and here's my list of books, I will be adding to/changing it as time goes on.
A — A Great and Terrible Beauty by Libba Bray
B
— Bloodrose by Andrea Cremer
C
— Crusade by Nancy Holder & Debbie Viguié
D
— Damned by Nancy Holder & Debbie Viguié
E
— Evernight by Claudia Gray
F
— Fallen by Lauren Kate
G
— Goddess Interrupted by Aimée Carter
H
— Hourglass by Claudia Gray
I
— Immortal Hearts by Ellen Schreiber
L
— Lenobia's Vow by P.C. Cast & Kristin Cast
M
— My Soul to Save by Rachel Vincent
O
— Out of Sight, Out of Time by Ally Carter
P
— Passion by Lauren Kate
R
— Rebel Angels by Libba Bray
S
— Stargazer by Claudia Gray
T
— Tempestuous by Leslie Livingston
V
— Vampires: The Recent Undead edited by Paula Guran
W
— Wuthering Bites by Sarah Gray
X
— Hex Hall by Rachel Hawkins